event
Women Techmakers Belfast Takeaways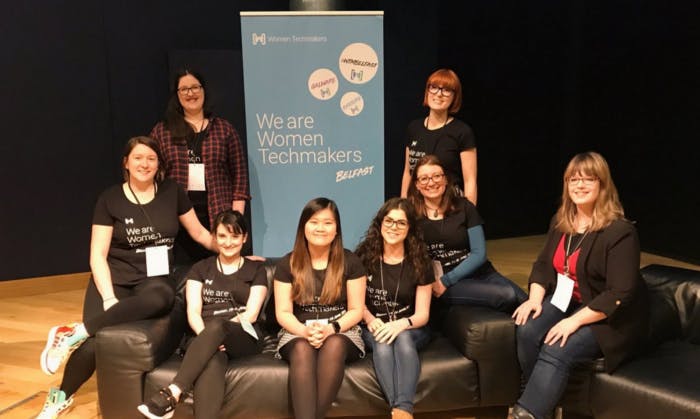 On Saturday 14th April I attended the Women Techmakers event hosted here in Belfast, and what an amazing event it was. For a little context, Women Techmakers is Google's own global program and brand for women in technology. As part of the global event series, Claire Wilgar, Darcie Graham, Desy Kristianti, Emma Mullholland, Rachel Connor, Sapphire Duffy, and Victoria McCallum banded together as a group of empowered tech women and set out planning and prepping Belfast's 2018 Women Techmakers Summit!
It all took place at our STEM Hub, W5 right here in Belfast City Centre. Walking in I was greeted and given my Women Techmakers Goodybag which was indeed, full of goodies. I can confirm a free travel coffee mug really is the way to a techies heart ❤. A fantastic addition to this event was the service of free child care. Breakfast, Lunch, and Snacks were provided throughout the day along with Tea and Coffee. The food was delicious, vegan and vegetarian alternatives were offered and there was a great variety for everyone, well done to Loaf Catering for the awesome spread!
At 10am we were all seated comfortably in the W5 lecture hall, Darcie led by welcoming us all to the event and gave a brief update on general housekeeping rules. Once that was all done and we were all settled in, the talks began! Talks varied in length between 30 minutes and short 15-minute lightning talks.
The speakers were outstanding, the talks had key themes throughout around personal growth, tech contribution, emerging technologies, MedTech, and of course Women in Tech. I learned so much and have already started incorporating some of the teachings into my own personal projects and development.
Thank you to all the speakers for sharing your stories and insights, you truly are role models for young women such as myself who are just starting out in their career in tech. You are all amazing.
A Tech Educators Panel discussion was led by Emma, the discussion was around challenges, opportunities, and the awesomeness behind preparing women of all ages for beginning their career in tech. The panel consisted of Deborah Fitzsimmons, Diane Morrow, Narelle Allen, and Rachel McDermot, all experienced educators with a lot of ideas and thoughts around helping young women pave their way into the tech industry. The floor was open to questions, ideas, and opinions, as to how we as a community of tech people could band together and start getting involved in helping our education system provide more.
To finish off the day, Keynote Speaker Rachel Gawley really nailed it with her talk on emerging Tech and Rule Bending. Rachel is the CTO and founder of MedTech Company AppAttic. Her talk was inspiring and nearly had me in tears at times as she gave an account of how she began her journey as a tech entrepreneur. Talking about her family, friends, and of course failures that every entrepreneur will face. Rachel finished off her talk by sharing with us some top tips that she has found have helped her, one in particular really stuck with me and it was the instruction to be kind to myself.
"Be kind. I always assumed the instruction to 'be kind' meant to be kind to others. I was my own worst critic. Give yourself a break, be kind to yourself."
So many times I've noticed in myself that I am indeed my own worst critic and very rarely do I give myself a break for not getting it right all the time. The beauty of the tech industry is that failure is the key to success it's how we learn and develop. It's not wrong to fail, it's wrong not to fail at least once.
Overall the 2018 Women Techmakers event was a definite success, I got to meet so many amazing people and even made some new friends along the way. The sense of community is wonderful, to be able to meet other like-minded people, have discussions, and learn from each other at these type of events is fantastic.
Finally just to wrap this blog post up, I just want to say a big shout out to the extraordinary people who made this event happen.